Well after months of searching for the right car (are they ever "right?") we located a really decent 1972 Mach 1. From the seller it was all original, 351 Cobra Jet, 4 Speed and well optioned. It came to the previous owner pretty rusty so he commenced to putting in new floor pans and lots of engine compartment metal. It was an excellent job. The nice thing about that is that the rockers and rails were good and the body is still in excellent shape with its original paint.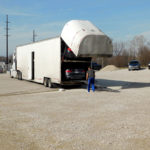 The truck it came on was something none of us had ever seen. It had a weird clam-shell on the back that allowed a couple of extra cars to be in the trailer for covered transport. Kinda cool. It was loaded with a ton of high dollar cars. A Ferrari F12, Porsche Cayenne, an Audi that I didn't know and a Classic Reflection Coachworks Corvette Conversion! Tons of money on the trailer and one car that couldn't move under its own power and of course, it's ours.
We got the car in the shop and started digging in.